Albuquerque Restaurant Magician Tony Chapparo
sophisticated entertainment for building repeat and new business
Demo Video:
Magic entertainment creates indellible memories of your restaurant. Once or twice a week, award-winning magician Tony Chapparo spends an evening in your restaurant as your Good Will Ambassador. He performs for guests in the waiting area, dining room and lounge. As he welcomes each table, Tony informs the group that they are being treated to this performance by the management and that it won't cost them a cent. He then performs a 3-7 minute show using props he carries with him. Guests are left not only with memories of the experience, but also with a magical souvenir with your restaurant's logo.
Top Reasons to Use Magical entertainment in your Restaurant
Increases your bottom line by building repeat and new business
Sets your restaurant apart from your competition
A truly enjoyable dining experience leads to higher tabs
Customized magic tricks leave guests with memorable souvenirs
Helps staff by diverting attention if food is delayed Keeps guests happy as they wait for a table
Having a magician perform in your restaurant is probably not high on your list of priorities. It probably seems intrusive and maybe even cheesy. Tony has developed an approach to restaurant customer service and marketing that not only sets your establishment apart from your competition, it increases your bottom line. Most importantly, he does this in a style that is classy, warm and never intrusive.
Free Publicity for your Restaurant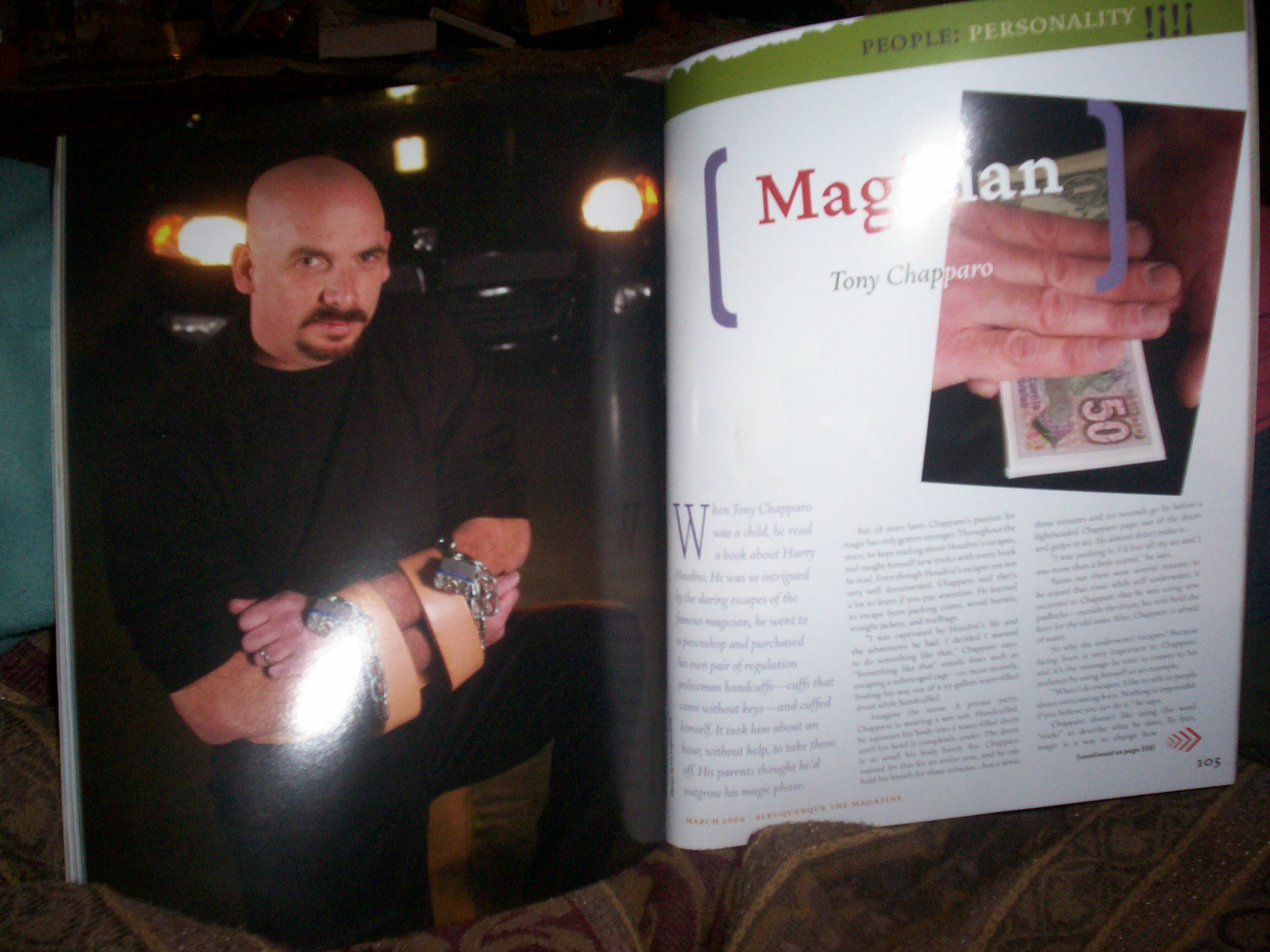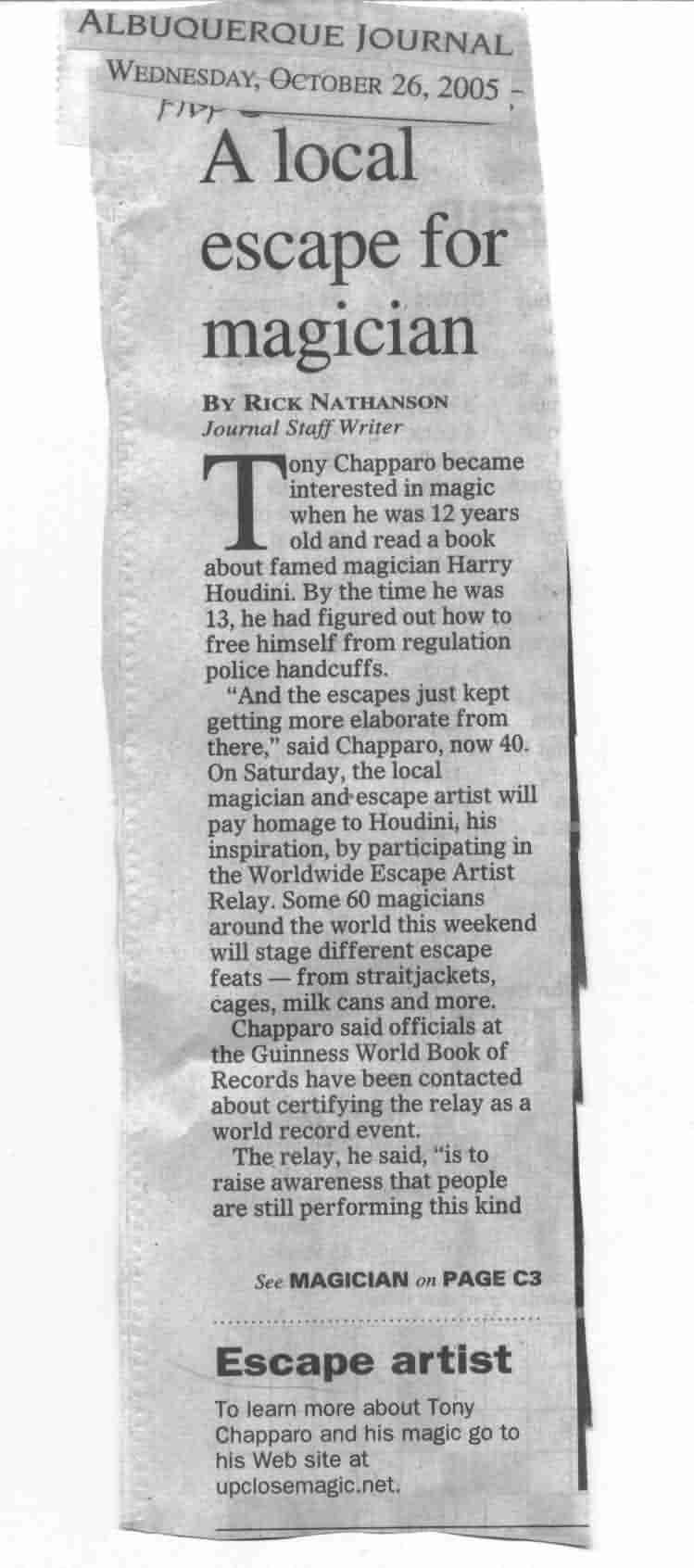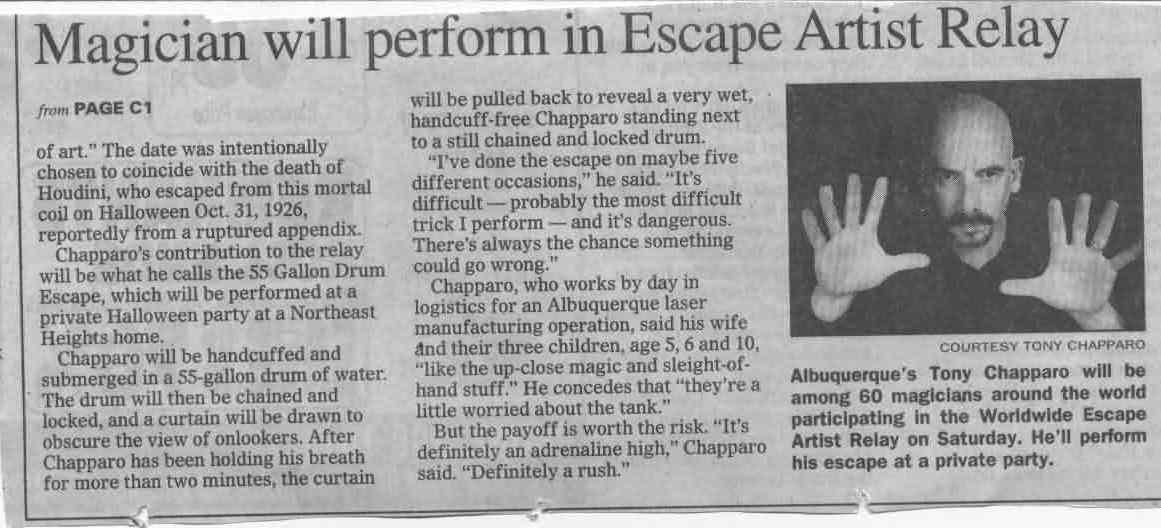 In addition to creating a buzz in-house, Tony has the media savvy necessary to get the attention of newspapers and local TV. He also promotes his weekly residencies on his website and all of his promotional materials. Tony has appeared on the radio, on television and in newspapers and he always plugs his restaurant residencies.
Tony's promotional efforts aren't limited to media attention. He has a variety of magic routines that leave your guests with magical memories of your restaurant that they will tell their friends and family about, increasing the promotional appeal of Tony's magic.
IT'S SIMPLE TO HAVE YOUR VERY OWN MAGICAL ENTERTAINMENT
Give Tony a call now and book one, two or three nights out of the week. The sooner you call the better chance you'll have of securing a night(s) that are best for your restaurant. To avoid disappointment pick up the phone and call Tony right now @ 505-239-2783 or e-mail magic.escapes@gmail.com.
Tony Chapparo Magic
505-239-2783