October 10, 2007

FOR IMMEDIATE RELEASE

(Albuquerque, NM) Local Magician & Escape Artist Tony Chapparo Joins Escape Artists Worldwide In Escape Attempt Oct 27th 2007.


Houdini's Spirit Still Lives After 81 Years.

Harry Houdini, the most famous magician that ever lived, died on Halloween in 1926. Houdini's spirit lives on in the heart of every escape artist of today. This year, escape artists around the world have banded together to honor the art form that Houdini perfected. On October 27, just a few days before the eighty-first anniversary of Houdini's death, 90 escape artists in thirteen countries will perform public escapes in the largest coordinated performance by escape artists in history.
The Worldwide Escape Artist Relay (or WEAR) began as an idea among escape artists exchanging ideas on the internet. The first event in October 2005 attracted over fifty performers, including Local magician Tony Chapparo and received widespread coverage. WEAR 2007, the second time that the feat has been organized, is expected to have double the number of performers. The event is being organized through a registration page on the website hosted by Ring 362 of the International Brotherhood of Magicians ( www.ibmring362.org).

Magician and Escape Artist Tony Chapparo will be part of the 2nd Worldwide Escape Artist Relay in an escape attempt at Perry Meadows Haunt - Rio Rancho's Premier FREE Haunted House - 916 Perry Meadows Dr. NE,
Rio Rancho NM - The escape is open to the public, Showtime 8:30 PM.
( www.perrymeadowshaunt.com ) For directions: www.perrymeadowshaunt.com/map.htm

In his contribution to WEAR II, Tony Chapparo an Albuquerque, NM based Magician and Escape Artist will attempt an extremely dangerous escape from a water filled plexiglass tank.

Tony will be shackled with handcuffs, legirons and bound with 20 feet of chain and padlocks as well as blindfolded before being submerged into the glass tank which will be locked on the outside in an air tight state with massive padlocks.
For information: http://www.upclosemagic.net
Contact : magic.escapes@gmail.com
Phone : 505 -239 -2783
# # #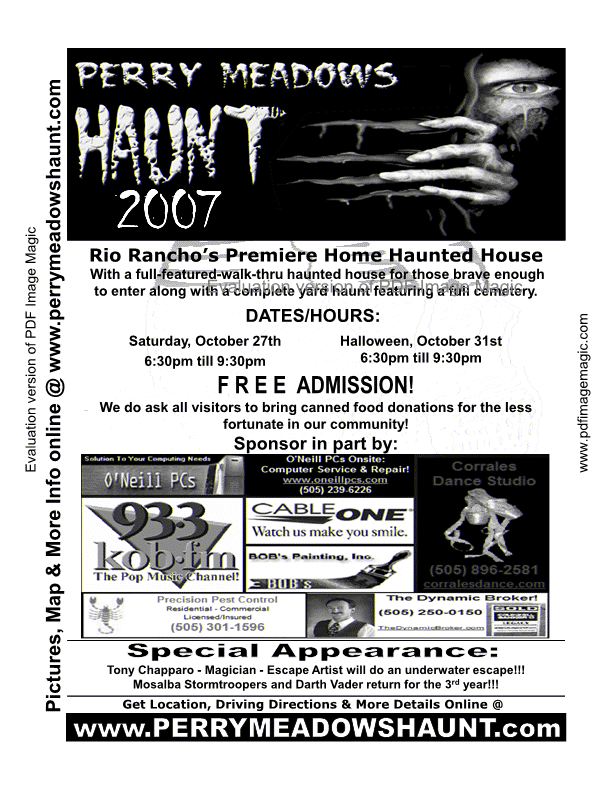 Official WEAR II webpage: Worldwide Escape Artist Relay 2007