The Secret to the best, most talked about event, party or promotion is now at your fingertips!
505-261-5041
STEEL STRAITJACKET UNDERWATER ESCAPE
Saturday October 30th 2010 at Perry Meadows Haunt on Corrales Rd.
Tony Chapparo will attempt an extremely dangerous underwater escape, He will be placed into a steel straitjacket complete with handcuffs, chains and massive padlocks that will totally immobilize his upper body. He will then be locked into a water filled tank that will be locked from the outside with massive padlocks. After all is said and done it comes down to one thing... ESCAPE or DIE!
Come one come all, open to the public admission is $5.00 @ the door.
October 7th, 2007
Tony will perform his extremely dangerous crystal casket escape October 27th @ Perry Meadows Haunt - Rio Rancho's Premier FREE Haunted House - 916 Perry Meadows Dr. NE,Rio Rancho NM -
The escape is open to the public, Showtime 8:30 PM. www.perrymeadowshaunt.com For directions: www.perrymeadowshaunt.com/map.htm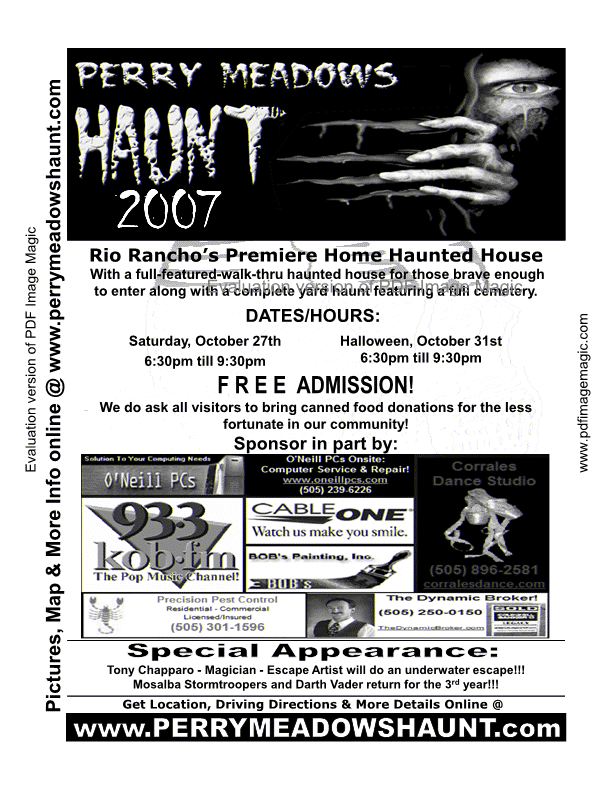 October 2, 2006
America's Got Talent Tony will be in Los Angeles October, 25th for a closed audition with the producers of America's got talent
March 16, 2006
Albuquerque The Magazine article featuring Tony in this months issue is now available at newstands all around Albuquerque.
January 3rd, 2006
Tony to be featured in march issue of Albuquerque the magazine
Interview and photo shoot were completed today. The march issue of Albuquerque the magazine will feature Tony as it's "personality of the month"
Nov 6, 2005
Plans underway for
Buried Alive...
Tony will be shackled to the bottom of a packing crate with handcuffs and leg irons. The crate will be nailed shut and circled with chains and locks. the packing crate will then be buried under several tons of earth, 6 feet under ground!
click on photo below for more info
There are two possible outcomes Tony must...ESCAPE or DIE!
OCTOBER 29 2005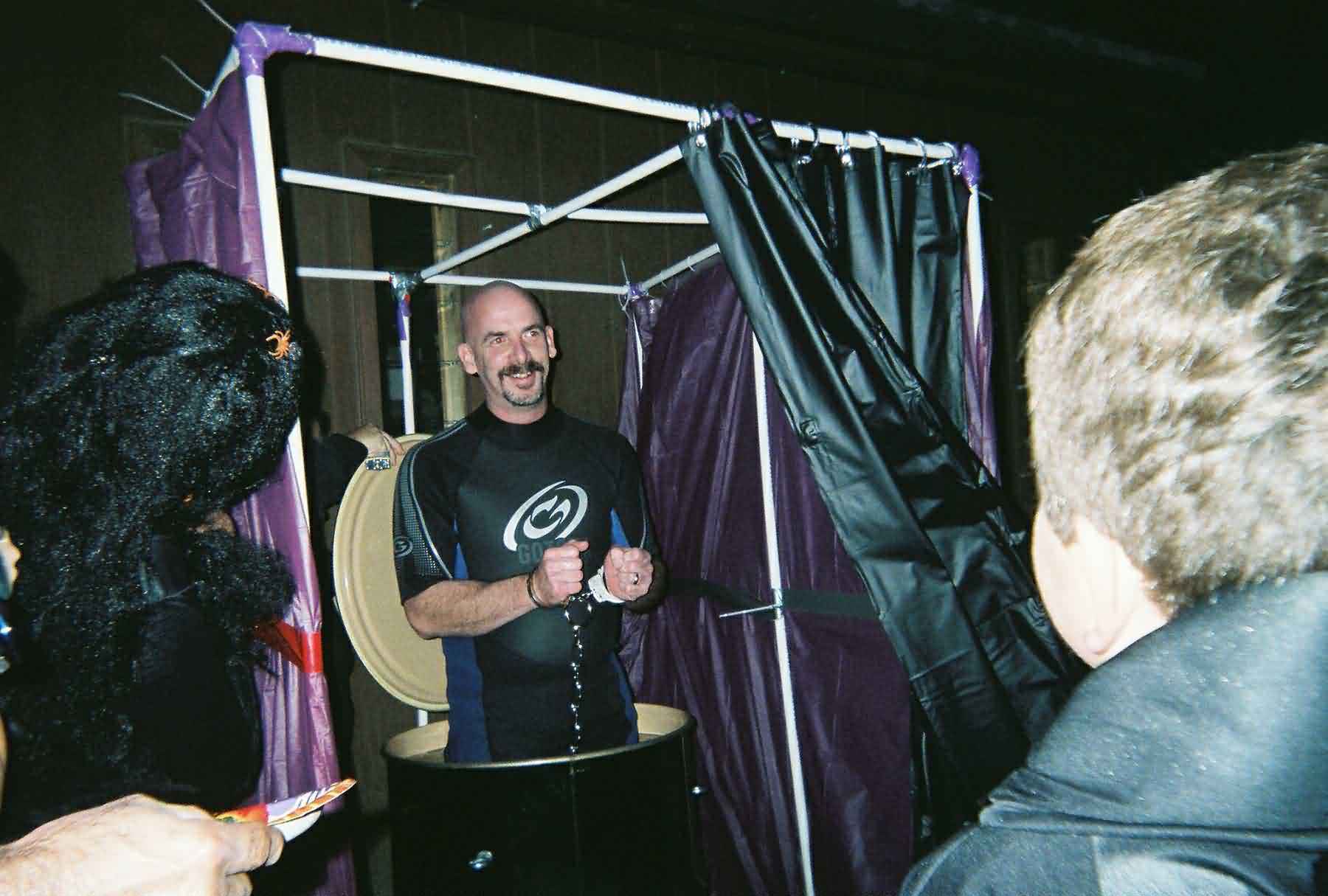 Tony performed the 55 gallon drum underwater escape as part of an event named W.E.A.R. (Worldwide Escape Artist Relay) on Oct.29th, 2005 around 8:30 pm MST.
OCTOBER 28 2005
NEW Check out the article in Friday the 28th Albuquerque Journal on the 55 gallon drum escape and WEAR.
official WEAR info: http://www.wearevent.info
press release:
released to local and national media outlets Oct 19, 2005, article printed in Albuquerque Journal Oct. 28th, 2005 in the personalities section.
(Albuquerque, NM) Magician & Escape Artist Tony Chapparo Joins Escape Artists in Worldwide Escape Attempt.
(2005-10-19)
( I-newswire) Ask most people to name a magician, and they will say "Houdini." Harry Houdini, best known as an escape artist, died on Halloween in 1926. Seventy-nine years later, a group of escape artists is seeking to honor the memory of Houdini by staging a globe-circling event called the Worldwide Escape Artist Relay. On Saturday, October 29, over fifty escape artists around the world will stage coordinated escapes. They will escape from strait jackets, handcuffs, chains, cages, tanks of water, milk cans and fifty-five gallon drums secured with padlocks. This event will more than likely make it into the guiness book of world records!

Magician and escape artist Tony Chapparo will be part of the Worldwide Escape Artist Relay in an escape attempt at a private party here in Albuquerque with over 100 guests in attendance.

In his escape attempt for the Worldwide Escape Artist Relay, Tony Chapparo will attempt a dangerous escape from a 55 gallon drum filled with water and secured by chains and padlocks. Tony will also be handcuffed before being locked inside the drum.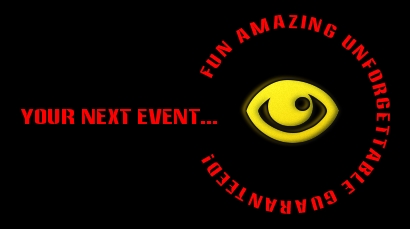 C

© Copyright 2012 Tony Chapparo Magic - all rights reserved